Project Notes
Raising brand awareness for Marchex
We helped Marchex emerge from behind the scenes with a creative data driven PR campaign.
The Brief
Click-to-call analytics company Marchex had a formidable challenge: It needed to showcase the "blind spot" facing online marketers who also operate call centers — a problem that their solution could fix — but it needed to do so in a way that would make the company more relevant and top-of-mind to enterprises in a wide variety of industry verticals. Furthermore, to enable the Marchex sales team to close more deals faster, any potential solution needed to provide social proof from placements in high numbers of third-party media outlets plus position the company as a market leader in the category.
The Execution
We jumped on the opportunity to create, use, and package data in interesting ways to make Marchex a regular data source for hundreds of media outlets. To do this, our analytics team devised a plan to combine four different types of data — internal brand data, public data, digital data, and new survey data — into a comprehensive editorial calendar that would always give Marchex a reason to be part of the trending conversation.
We knew that if we could package this data in a simple, surprising, and entertaining fashion, we could generate media coverage of topics that are innately boring on their face. As such, we created catchy and humorous data sets, such as "The States That Swear the Most" (based off phone data) and the average amount of time Americans will spend on hold (43 days!).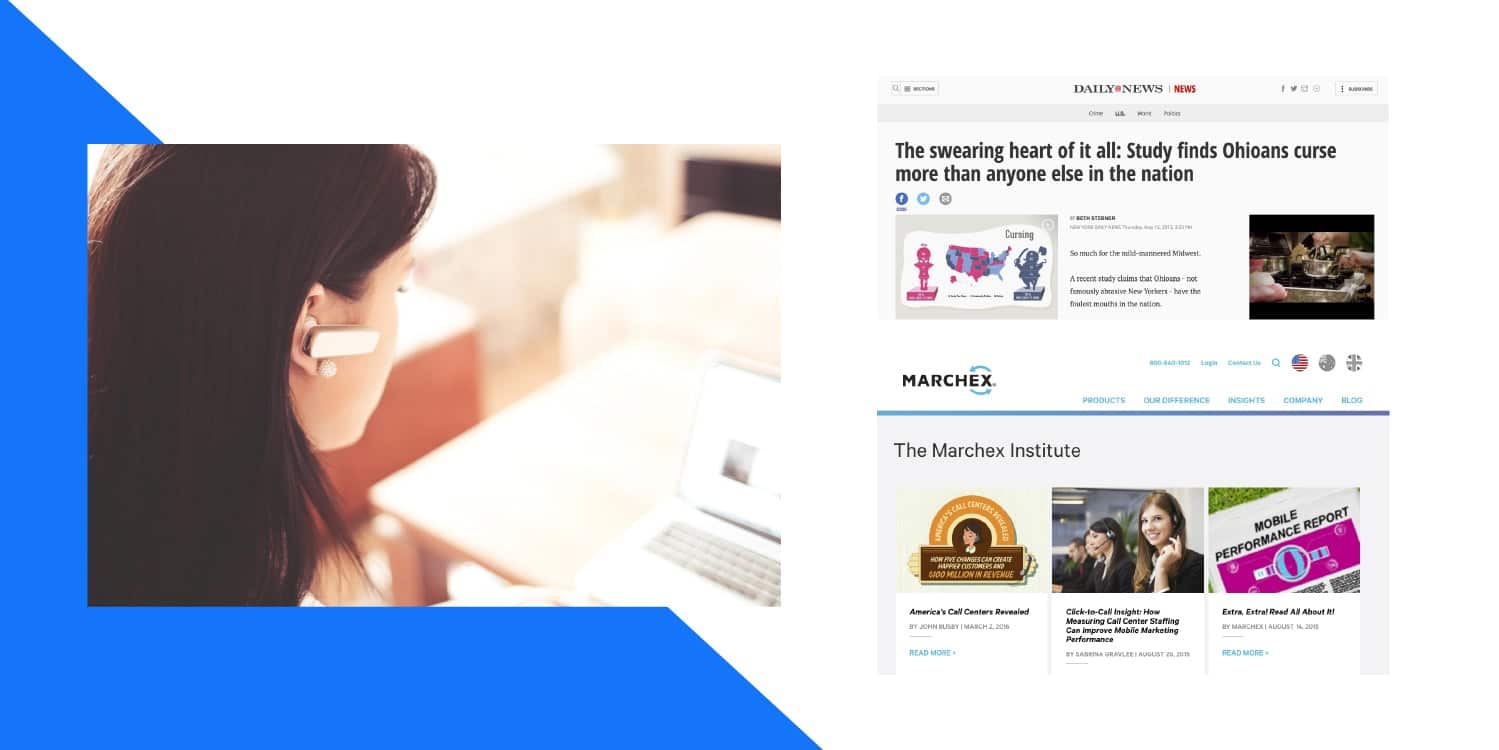 The Result
By creating interesting data sets and packaging them into newsworthy story lines, we were able to draw significant attention to a company that had very little name ID or recognition at the outset. Survey data stories that featured the states that curse the most and how much time the average American will spend sitting on hold appeared in top tier outlets and broadcasts such as NPR, People, and Yahoo. With this coverage, Marchex emerged from a call center middle man to a household name in digital marketing circles. 
Not only did Marchex establish itself as the premier provider of data-driven thought leadership, but it gained regular top-tier media coverage in AdWeek, MediaPost, The Wall Street Journal, and many other publications that sent a consistent stream of new qualified sales leads.
Highlights
Goal
Create brand awareness for a company that does all the behind the scenes work for household name brands. 
Let's talk about your project
Next steps
We'll ask key questions

We are hyper-efficient at synthesizing your core needs.

We'll draft a proposal

We can harness the expertise of our local + global team.

We'll present the plan

We will show you how to turn ideas into scalable action.