200+
Local & National Hits
Project Notes
Utilizing calendar-based marketing to make mental health relevant all year long
We helped Lantern make headline news and secure 6M$ in new funding by placing them on timely mental health topics and raising awareness with app demonstrations on broadcast media.
The Brief
Latern is an emotional health support service that connects users with licensed therapists via a mobile app. They came to TOP to help them increase their media coverage while championing their medical credibility. Like many mental health companies, they needed to de-stigmatize mental health in order to promote broad appeal and attract more business partnerships to help them grow.
The Execution
TOP created seasonal stories that made the brand relevant at multiple points in the year. Through calendar-based marketing, Lantern was able to capitalize on attention given to holidays such as Mental Health Month, and other seasonal triggers (like seasonal affective disorder experienced during colder, darker, winter months) to plug Lantern's medical experts into the larger conversation. 
TOP also increased public awareness of the app's functionality, even for those who had not yet downloaded the app, by creating customized marketing assets like the mental health tune-up quiz which on-air talent could administer on local TV and radio.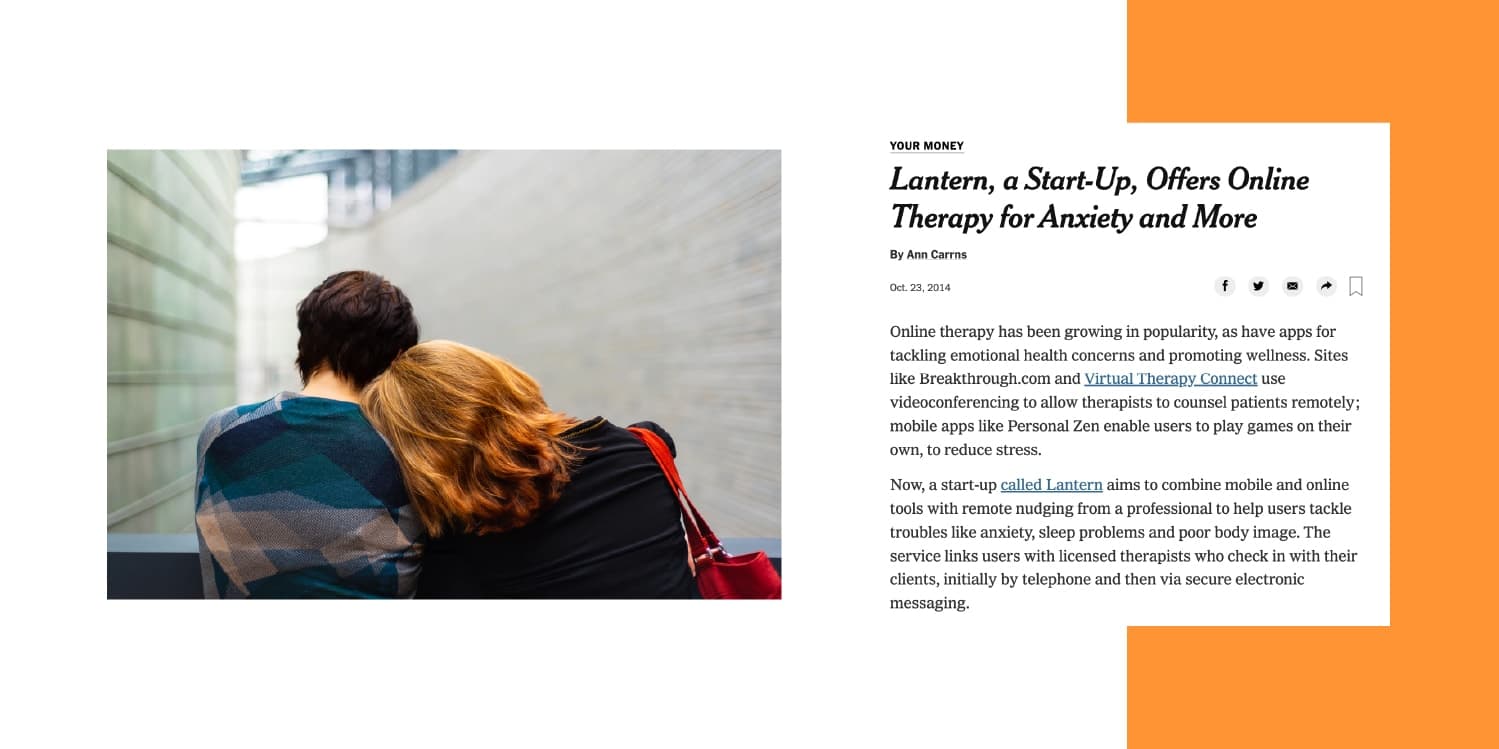 The Result
The campaign resulted in more than 100 million impressions, 200+ local and national media hits, and led Lanter to raise an additional $6 million in funding. Among the coverage highlights were stories in the New York Times, Bloomberg, the Wall Street Journal, and the Huffington Post.
Goal
To expand appeal for mental health app and make it relevant all year long.
Impact
More than $6 million in additional funding and 200+ media placements.
Let's talk about your project
Next steps
We'll ask key questions

We are hyper-efficient at synthesizing your core needs.

We'll draft a proposal

We can harness the expertise of our local + global team.

We'll present the plan

We will show you how to turn ideas into scalable action.