Project Notes
Launching in the U.S. marketing with unique and brandable content
We helped Brainly increase its earned media footprint by 10x with a best-in-class PR and rapid response program.
The Brief
As a fast-growing EdTech and SaaS platform for students, teachers, and parents, Brainly already had 150 million users worldwide but very little U.S. awareness. How could we use data in innovative ways to get massive U.S. earned media coverage and increase brand awareness among key audiences and stakeholders?  Could we package data to get both local coverage and national scale?
The Execution
To create a data-driven PR program, we first identified key moments where Brainly would be most relevant to its target audiences — especially seasonal events like National Teacher Week, Mother's Day, Father's Day, and local school district events. We then created sequences of ownable data concepts and studies related to those moments by combining client data with in-house market — segmenting the data geographically to appeal to local media outlets. 
Key data-driven pitches included the "Teacher Appreciation Index" (insights on local teachers), the "Homework Habits Index" (insights on local students and parents), and the "Back to School Poll" (a ranking of states where students felt most and least prepared for the new year). Beyond the individual pitches, we helped media gatekeepers familiarize themselves with Brainly as an always-accessible data source for key insights for their education-related stories.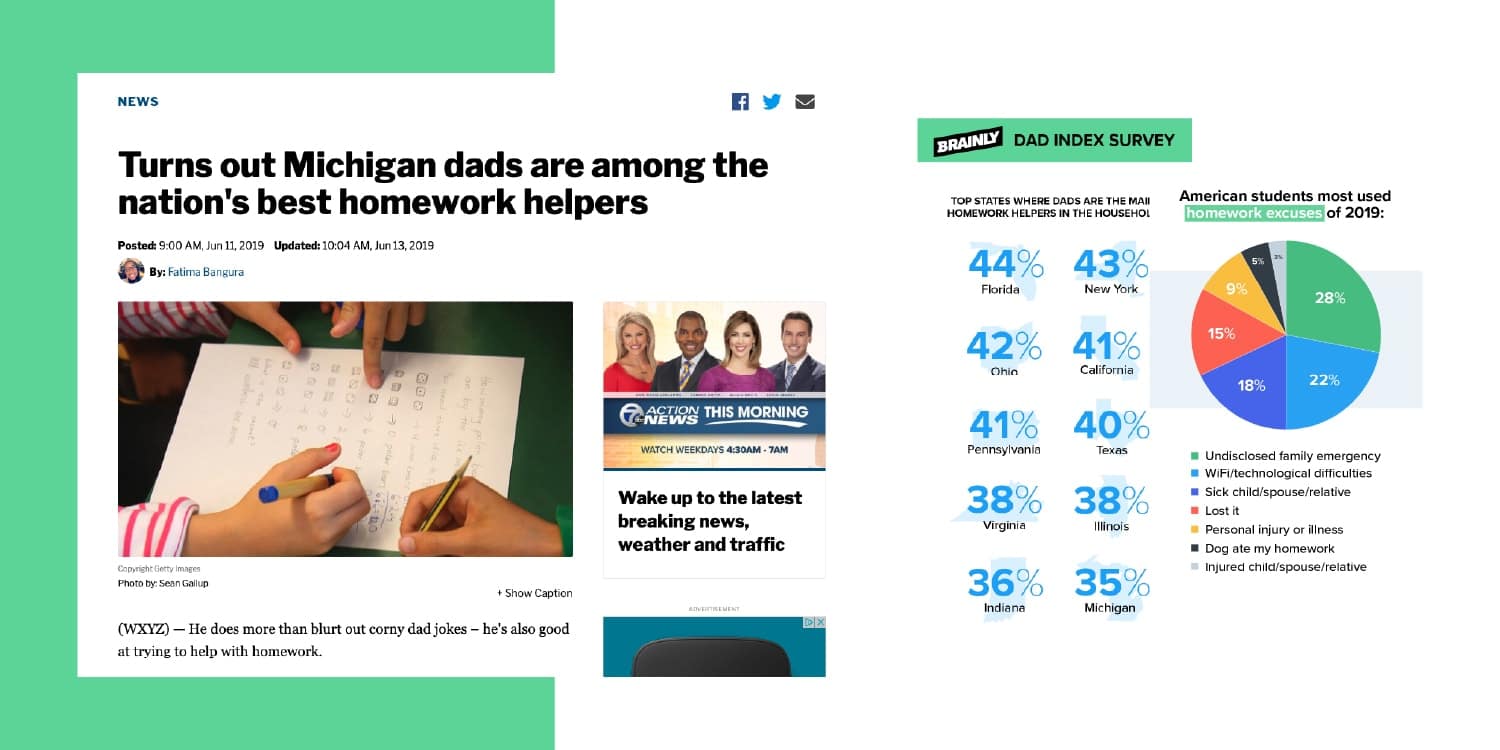 The Result
Within the first month of the campaign, Brainly had achieved prominent placements in dozens of ABC, CBS, FOX, and NBC TV affiliates across the U.S.  Within four months, Brainly had achieve hundreds of media placements, 420 million impressions, and 3.8 million new users attributed to the data-driven PR campaign.  
All of this foundational PR and brand positioning work led to a highly-successful corporate PR announcement covered by more than 140 outlets worldwide, including high-profile placements in TechCrunch, Bloomberg, EdWeek, and VentureBeat — putting Brainly on the startup success radar and ensuring U.S.-based investors and advertisers would take notice.
Highlights
Goal
Increase in U.S. brand awareness
Impact
192 media hits, 420 million impressions
Key Achievements
100M audience reach for "Homework Habits Index"
Let's talk about your project
Next steps
We'll ask key questions

We are hyper-efficient at synthesizing your core needs.

We'll draft a proposal

We can harness the expertise of our local + global team.

We'll present the plan

We will show you how to turn ideas into scalable action.